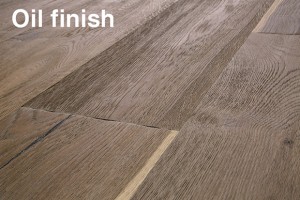 Oil-based finishes are only one type of finish in the hardwood flooring market, but they have slowly been making a strong return. Their largest competitor is water-based urethane finish. A few reasons why oil-based finishes are gaining ground are not simply because of the appearance that can be achieved, but because of the environmental factors, ease of installation, and ease of repair.
Benefits of Oil-Based Finishes
We just touched briefly on a few of the benefits oil-based finishes offer, but we want to elaborate even further:
Strengthens wood fibers – oil-based finishes do not sit on top of the hardwood floors, but will actually penetrate the floors and strengthen the wood fibers, which leads to a decreased chance of shrinkage, better hardening, and enhanced water repellent.
Learn How to Prevent and Fix Water Damage.
Easily repairable – what this actually means is that if minor scratches or typical wear and tear were to occur, then a floor with an oil-based finish would respond to fixes much easier than other types of finishes – without the use of a professional required.
DIY: Fixing Dens, Scratches, and Gouges on Hardwood Floors.
Environmental concerns addressed – most oil-based finishes are created from plant-based raw materials. An example of this may be found on all floors featured in our Composer Maestro collection of oil-finished hardwood floors.

Design/Appearance – in short, it's really tough to receive the same type of rich, wood glow that is attained from the use of an oil-based finish over water-based urethane finishes. Oil-based finishes have a way of bringing your hardwood floors "to life".
Where Would I Start in Applying an Oil-Based Finish to My Hardwood Floors?
If you're interested in applying an oil-based finish to your hardwood floor as a way to refinish it and restore it's beauty, then we highly suggest hiring a professional to get the job done correctly & efficiently. If you are ever unsure of how to perform a DIY task on your hardwood floors, we always recommend a professional in order to prevent accidental, irreversible damage from occurring.