With Thanksgiving here soon – we're pretty excited to stuff our faces with great home cooked food including the usual culprits of turkey, stuffing, gravy, cranberry sauces, and of course the pumpkin pie topped with whipped cream. What's one thing all of these have in common? They all end up in the dining room where guests and families begin to indulge. Urban Floor recommends it's top 3 engineered wood flooring choices that are an excellent choice for your dining room.
1. Chianti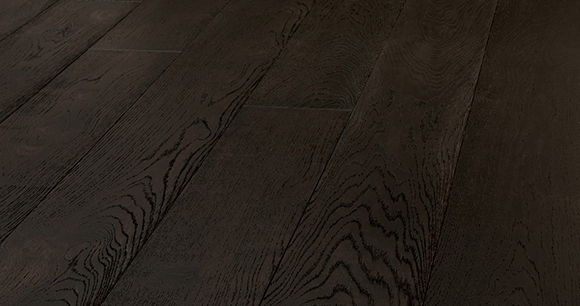 Dark wood flooring is especially popular these days, which brings us to our first recommendation: Chianti. This hardwood floor heightens your dining room experience with a warm, elegant feel perfect for family gatherings and events such as Thanksgiving.
Pro Tip: Area rugs are hardwood flooring's best friend! They complement each other well. To add a little style or class to your dining room, consider an appropriate area rug to fit underneath your dining room table where you and your guests will be dining.
2. Messina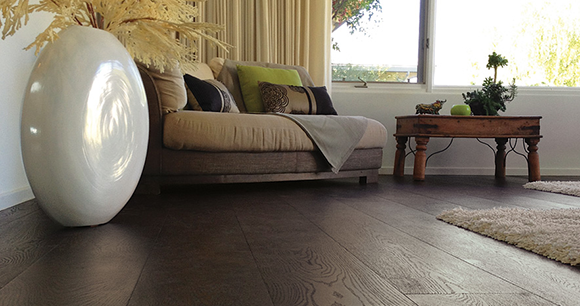 Another European white oak suggestion that works very well for the dining room because of two simple aspects:

Dark wood – it's dark, but does not overwhelm.

Lacquer finish – it also has a nice, smooth wire brushed finish topped with lacquer for excellent durability.
Durability is an aspect that should be considered for dining rooms as foot traffic generally flows in the dining room – not just for events, but because people often walk through this room to get to their kitchens.
3. Walnut Apache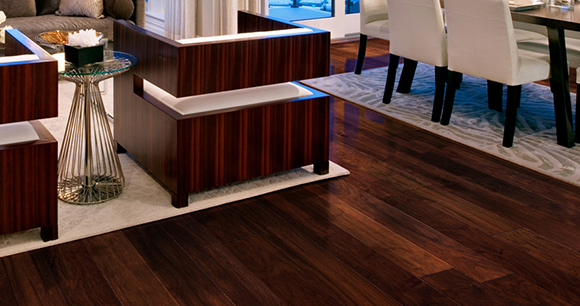 Deviating a bit on this one, but the Walnut Apache is also an excellent hardwood flooring choice for dining rooms. It's a dark brown hardwood floor that seeks to stand out with its semi-gloss stain. If you're looking to really impress, then the Walnut Apache will certainly deliver. Its half-inch thickness also makes it perfect choice for hosting events – especially Thanksgiving dinner.
If you noticed, we stayed away from distressed or hand scraped flooring options as dining rooms are meant to impress. Of course, distressed and hand scraped wood floors are stylish in their own regard, but they do not come off as elegant or as "classy" as a nice European Oak, dark hardwood floor (with the exception of the Walnut Apache made from American Walnut and features a heavy scraped finish that appears more smooth than natural).
The one thing we're all thankful for here at Urban Floor are our wonderful customers who appreciate the passion we have for exceptional hardwood flooring. Happy Thanksgiving!