If you've ever shopped around for hardwood floors, you may have noticed one thing: the presence of oak. It begs the question, "Exactly why is oak such a popular choice for hardwood floors?" Great question. We'll educate you as to why oak hardwood floors are popular.
Why Oak is the Most Popular Hardwood Floor Type in the US
Character – oak is known for its character and board length, especially European oak as featured in our Chéne collection. What we mean by character are the knots, streaks, and other natural flooring features unique to the tree the floor came from.
A great example of this is our Shiraz floor as part of our Chéne collection.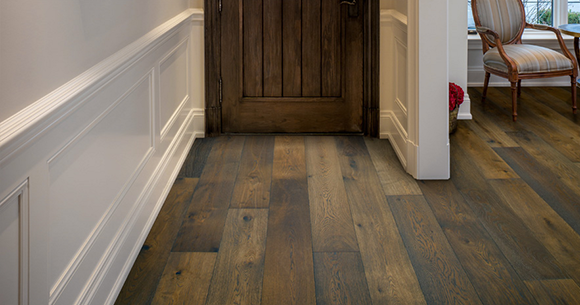 Versatility – what we mean by this is that oak is a very traditional, timeless look. As such, it tends to work very well with many décor styles from modern to classic. It's difficult to find a combination or décor pattern that does not go well with oak.
Abnormalities – because oak has a natural strong grain pattern, it is able to mask abnormalities such as scratches, dents, nicks and other small flooring mishaps better than other flooring types.
Urban Floor's Guide to Small Scratches and Dents.
Janka Rating – the Janka hardness test is used to measure the hardness of wood floors. Our white oak floors have been rated at 1360. While it isn't the highest measurement as compared to Brazilian Cherry (2820) it certainly is strong enough to handle moderate to high foot traffic.
Added Home Value – Homebuyers enjoy properties that have features they know will sell. One of those features? Hardwood floors, specifically oak. Why oak? Because they know it's popular!

Read more about how hardwood floors add value to your home.
Will Oak Flooring Ever Lose Its Shine?
Trends come and go all of the time, but we believe oak flooring is here to stay and will always be regarded as a go-to choice for hardwood floor consumers. However, you shouldn't count other flooring types out. Maple, birch, and hickory options are also popular choices and offer their own set of benefits.
Trends are still being set for 2015, but if you're curious as to what was hot in 2014, then view our post on what homebuyers preferred.