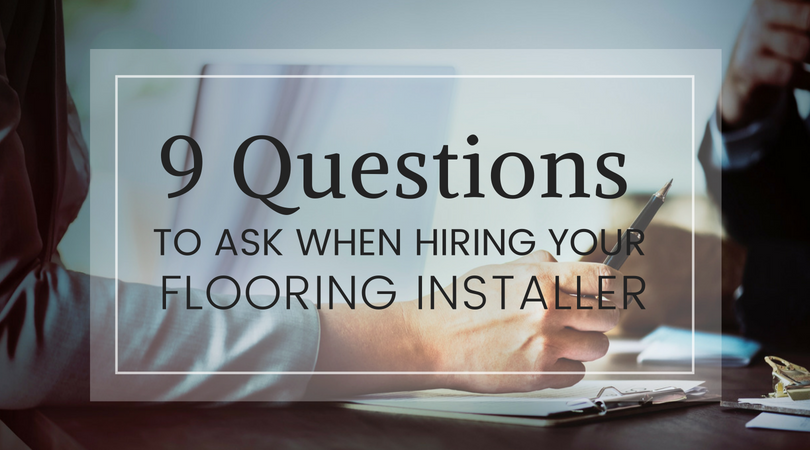 So you have decided to remodel your home and replace your old flooring – what's next? Now it is time to hire a qualified professional to install your new hardwoods! Read below for some questions to ask to get your conversation started with a potential installation professional.
1. Is your installer licensed and insured to do this kind of work?
Knowing this information will tell you if your installer is trustworthy and has taken the necessary steps to conduct their business legally. It also means that you can rest assured, knowing if something goes wrong, they are covered. Unexpected events happen, sometimes not even related to the floor itself. There are always what if's: what if someone accidentally cuts into electrical wiring? What if someone accidentally bursts a pipe and floods the basement? Accidents like these are rare, but they happen; when they do, you'll be really happy your contractor is covered.
2. Is your installer NWFA certified?
NWFA stands for the National Wood Flooring Association. Professionals who are NWFA Certified are recognized in the industry are universally recognized as the absolute best in the business. Installers who have been certified with the NWFA are committed to mastering the installation process and will continue to participate in ongoing education (both online and hands-on) to maintain and advance their skill set.
View a complete list of NWFA certified installers here.
3. Will the installer ensure to measure and record the moisture content of the materials and relative humidity of the environment?
The NWFA guidelines include instructions for proper measurement of the moisture content of the hardwood flooring as well as the relative humidity of the environment. Most manufacturers require this information if there are any problems with the flooring. Lack of records in this area may void your warranty.
4. What kind of warranty does the installer offer for their work?
Hardwood flooring is a big investment so make sure you choose an installer who will back up their own work.
5. Does your installer have references and positive online reviews?
Ask for references and call them! Do some research and search for your installer online on sites such as Yelp, Angie's List, and Google reviews. Keep in mind that most installers will have a few complaints. While this is normal and not a reason to discount an installer, it's important to see if those complaints were valid and if they were addressed by the installer. Look at the reviews as a whole – if the installer has 20+ positive reviews and only a few negative ones, that is normal record. However, if the installer has 7 reviews and 4 of which are negative, this is cause for concern and you might want to look at other installers.
6. How will they contain dust and handle clean-up?
Prepping a room for new flooring and the actual installation can create quite a mess. There are many ways to contain it and its best to ask your installer up front. How will they protect window furnishings, lighting fixtures, and large appliances? Will they take away and dispose of pull away materials (i.e. your old floor)? While it might seem like common sense that an installer would clean up after installation, it's not always the case. Make sure they know that clean-up is expected.
7. How long will the job take?
This is extremely important information to know. Not only will it allow you to have a reasonable expectation for the timeline of the project, you can also make any necessary plans on your end. Ask for information on how the project will progress including lead times for product (when it will be delivered, the length of the acclimation process) and if they will skip any days throughout the project duration (some days may be taken off as the product dries, if the crew doesn't work on certain days of the week, etc.).
8. Will they take the time for proper acclimation?
Acclimation is an important step when it comes to installing hardwood flooring. Improper acclimation will exaggerate seasonal gapping and may result in buckling and permanent damage to your new floor. Installers often do their best to accomplish their clients' design plans in their desired timeline but make sure that this important step in the installation process will not be skipped over. Refer to the hardwood flooring manufacturer's instructions for information on acclimation times and processes.
Click here for detailed Urbanfloor installation guides.
9. How will they handle payment?
As a general rule, it is a red flag when a flooring installer requests payment before any work has been completed. There are exceptions to this, of course (for example, if the installer needs to pick up materials such as glue or moldings for the job). Generally, flooring installers require a deposit on the first day of work and the rest upon project completion.
We hope these questions help you to make a more informed decision about who will install your beautiful new floors. Superior hardwood and quality installation make for a stunning floor!
---
---