Hardwood flooring is a true investment in many applications of the word. It is an investment, of course, in your home as it can increase its value and resale potential. Not only that, hardwood floors are also an investment in your family and in your style. It is important to select the right option for your family and style taste.
Color aside, how do you go about choosing whether to opt for a solid hardwood floor or an engineered hardwood floor? We're here to lay out the options and give you all the info!
First, let's define the terms we're working with.
Solid Hardwood Floor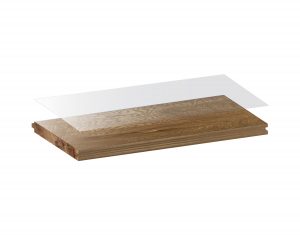 As the name of this classification might suggest, solid hardwood floor is just that – solid. Made from a single piece of natural wood, solid hardwood floors are synonymous with longevity and reliability.
Urbanfloor's Presidential Signature collection, for instance, is a collection of 100% solid hardwood floor. Urbanfloor solid hardwoods are durable and of the highest possible quality, ensuring your floor will last for generations to come.
View Urbanfloor's solid hardwood >>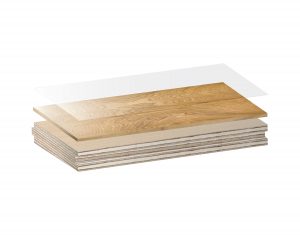 Engineered Hardwood Floor
Engineered hardwood floor, like solid, is made of 100% natural wood. Unlike solid, however, it is constructed in multiple, cross-grain layers. The toplayer, or wear layer, comes in a variety of species and colors. Each layer of the core is laid cross-grain, in different directions, and ensures that the structure is highly stable and much less likely to expand and contract when it encounters moisture, humidity, and fluctuating temperatures.
View Urbanfloor's engineered hardwood >>
Installation
When it comes to installation, engineered hardwood floors are more versatile. Given the correct environmental conditions, engineered hardwood floors can be installed below, on, or above grade using many different installation techniques (including glue, float, nail/staple) and over all types of subfloor including wood and concrete. Solid wood floors can be installed on or above grade using the nail/staple method onto the wood subfloor only.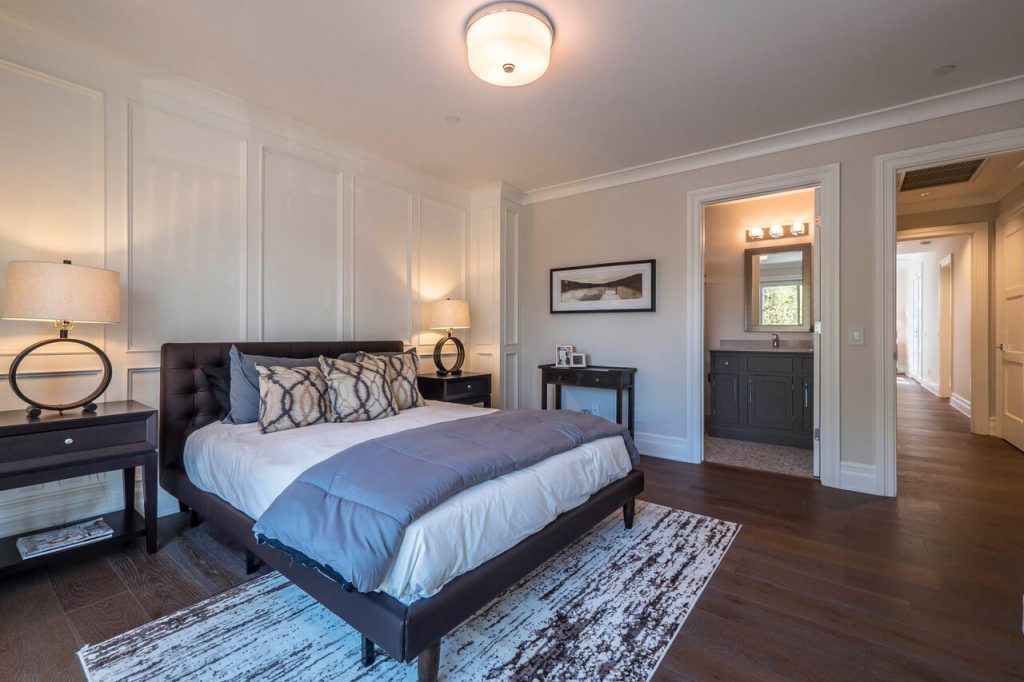 Design Options & Aesthetic
When it comes to both solid and engineered hardwood, there are a variety of colors, textures, and species to choose from – from hand-scraped maple to wire-brushed European oak.
When it comes to width, solid hardwood typically comes at a maximum width of 5". Ultra-wide and extra-long planks are extremely popular when it comes to modern design trends. This aesthetic, however, is only available with engineered wood floors. This is largely due to the overall stability that the construction of the engineered hardwood plank brings to the floor and is able to be more resilient to environmental factors.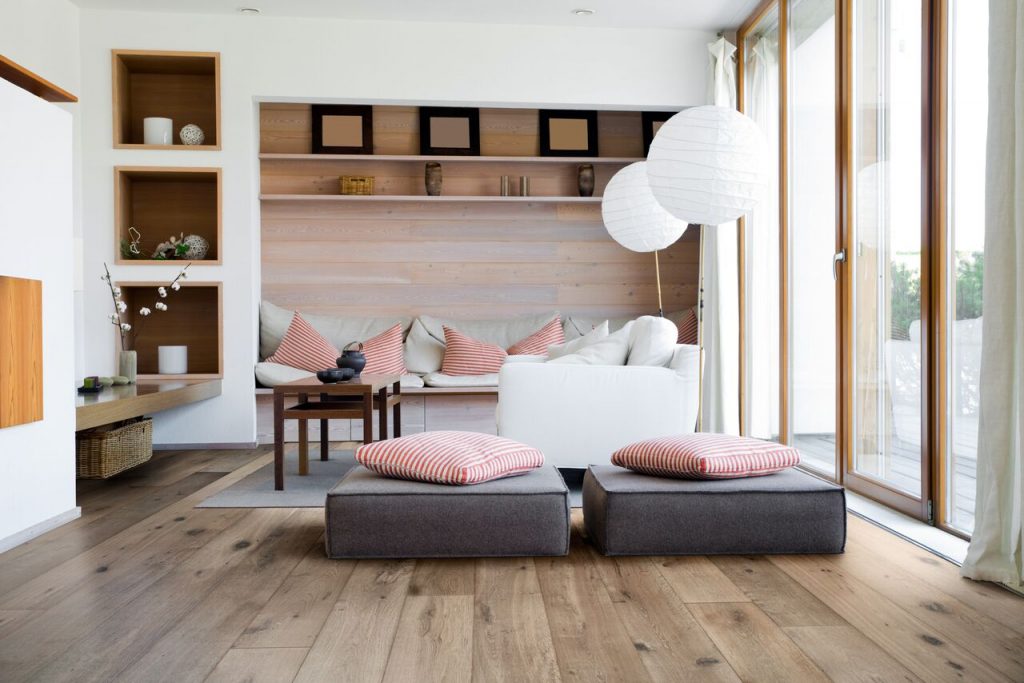 Cost & Resale Value
Depending on the type of engineered floor, engineered floor costs relatively the same as solid. Additionally, as both floor types are constructed from 100% natural wood, each add value and style to your home.
If you are interested in utilizing a radiant heat system in your home, engineered hardwood may be the way to go. On account of its inherent resiliency to fluctuating temperatures, engineered hardwood is compatible with hydronic radiant heat systems.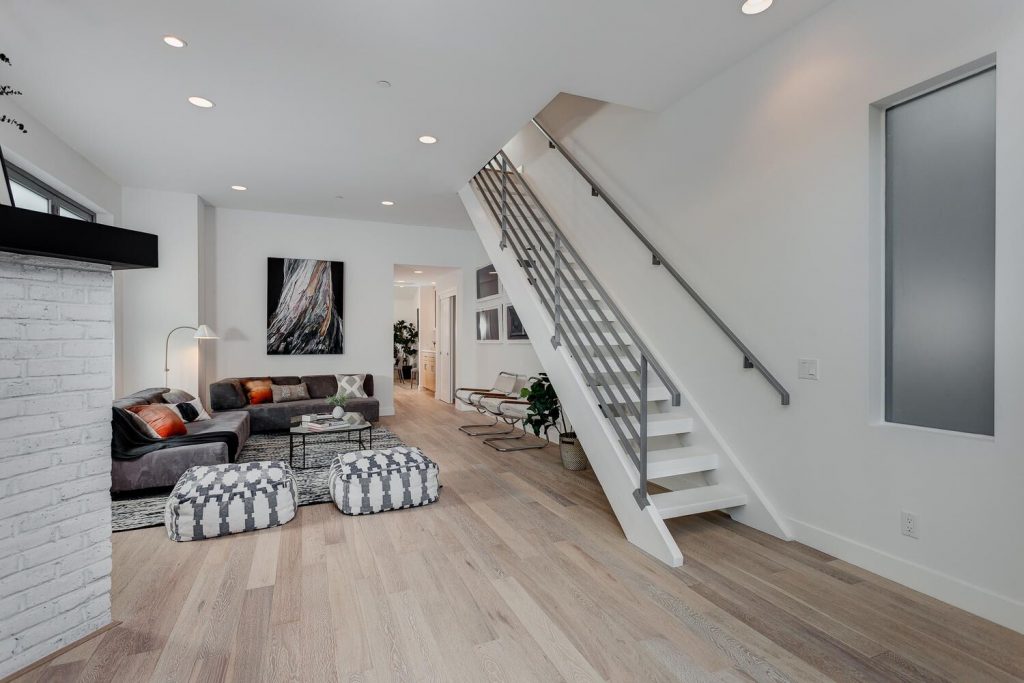 Longevity
When it comes to the longevity of engineered hardwood and solid hardwood, their lifespan is relatively similar. A quality floor, when properly maintained and cared for, can last upwards of 100 years.
Solid floors can generally be refinished multiple times. This refinishing process involves sanding down the finish of the floor, removing the top stain, and putting a fresh stain and finish on top. With this method, you can change the overall look of the floor. Keep in mind, however, that if your original floor had texture (wire-brushing, hand-scraping, etc.) this will be removed with the refinishing process.
While some engineered floors can also be completely refinished, it is not a guarantee with this kind of construction as it all depends on the thickness of the wear layer on top. Make sure to select a product with a thicker wear layer if you plan on sanding and refinishing in the future.
For those who do not want to go through the extensive refinishing process, a screen and re-coat is always an option for refreshing your floors. This process is much less intensive and does not require sanding of the wood. Instead, a screen and re-coat involves buffing the original finish and reapplying a new top coat to restore your floors to their original glory. This option is available for both solid and engineered hardwood floors and can be done multiple times.
View our care guidelines here >>
---
---