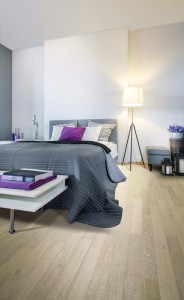 Finding the right wall color to match your newly placed, beautiful hardwood floors can be a daunting task for many. We understand this, which is why we're giving you a few interior design tips in order to help you select the best matched wall color for your hardwood floors.
Playing it Safe – The Neutral Approach
Sometimes you just want something easy that you know will work with anything and guess what – that option does in fact exist. They're called neutral colors and aren't meant to make any bold statements – yet still provide an appropriate style that can be appreciated.
Despite what the color or hue of your hardwood floor is, these wall colors are sure to mesh very well:
White
Ivory
Cream
Tan
Taupe
Bold Looks – Contrast
For those looking to make bold statements with both walls and floors that stand out, then you'll need to find contrasting colors. The best advice is to find out what undertone your hardwood flooring is (if you don't know, call your hardwood floor distributor/salesman and they will tell you) and then use a color wheel to find the exact opposite color.
For example, say your hardwood flooring has red orange undertones (i.e. Rochester), then a color such as blue-gray will work very well.
A rule of thumb here is if it's a warm color, then contrast it with a cool color. Simple enough, no?

Center of Attention – All Eyes on The Floor
Sometimes you want to purposefully place more eyes and attention on your floors over all other décor in the room. Contrasting could work well for this, but we have a better suggestion: selecting a color based on intensity.
What we mean is if say you have dark wood floors and want to maintain attention on the floors, then you'll want to choose a lighter color such as light gold, pale blue, or peach. It's not a contrast that would put emphasis on both the floors and the walls. It's a design technique used to keep your floor center stage.
Pro tip: You should never be afraid to ask for someone's opinion on a design idea you have as it will help you narrow your choices down by exposing you to different perspectives.