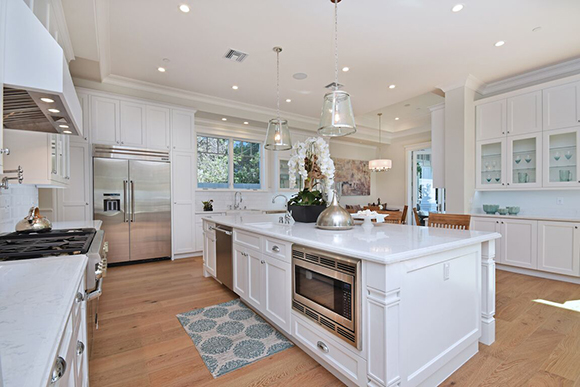 That's right, you heard us: hardwood floors in the kitchen.

*We want to mention however that we do not condone the use of hardwood floors in the kitchen – despite how beautiful they are – because of the chance of water damage occurring.
With that said, a report performed by Houzz found that many homeowners are updating their kitchens by remodeling them. 72% of homeowners are updating their kitchen floors, according to the report.
Of the 72%, 34% chose solid hardwood for their kitchen flooring, while 12% selected engineered hardwood floors. It used to be that ceramic or tile-flooring options were most popular, but that has now changed.
Why Hardwood Floors for Kitchens?
It begs to question: why are a majority of people, specifically homeowners, turning to hardwood floors in the kitchen? What's the appeal?
1. Kitchen Life Has Changed
It used to be kitchens were for cooking and nothing more. Nowadays this isn't the case. Kitchens for many families have a variety of uses. Entertainment (i.e. TV), socializing, performing work or homework. There's a lot more activity occurring in kitchens now, as much as 3-4 hours per day as estimated by the report.
With this much activity occurring in kitchens on a daily basis, you're going to want something that looks appealing – such as hardwood floors – especially if you're inviting guests over to socialize with.

2. It's Just Due for a Change
In the report, half of the homeowners surveyed had reported that they were updating their kitchen because it had been 21 years or longer since the last update. That's a long time & with trends constantly changing you want to make sure you're keeping up in order to maximize the value of your home. Flooring is one of the top features being updated in kitchen remodels.
See also: Hardwood floors add value to your home.
3. New Kitchen, New Style
People that remodel their kitchen are trying to be trendy or add in features or other bells & whistles that have a lot of appeal. Hardwood floors are one of these appeals because it's something we haven't traditionally seen performed in the past. Kitchen hardwood flooring is just beginning to gain popularity amongst homeowners.
Please refer to our other posts on hardwood flooring trends of 2016 and residential flooring trends for more information.
---
---
You might also like
---