What Does Greater Stability Mean?
By: Urbanfloor Dan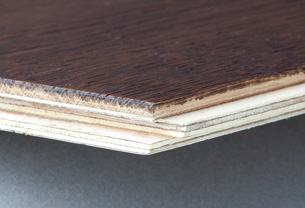 Engineered wood floors are real wood floors that are manufactured using three to nine layers of different wood veneers.  The sub layers can be of the same species, or of different species.  The grain of each layer runs in different directions, which makes it very stable.  This means that the wood will expand and contract less than solid wood flooring during fluctuations in humidity and temperature.  The top layer of engineered wood flooring consists of high-quality wood. While this type of flooring can be sanded and finished, it cannot be done as many times as solid wood flooring.  Engineered wood flooring can be installed above, on or below grade.
The instability of solid hardwood is usually moisture or heat related.  Under adverse conditions, solid hardwood floors can warp, cup, swell or split apart.  Engineered hardwood flooring overcomes these problems by constructing a multiple-ply plank which counteracts twisting and remains flat and intact.  This makes engineered hardwood flooring a better choice for installation over radiant heat sources, over concrete whether it's below grade or above, and in rainy climates.
---
---

Fatal error: Uncaught Exception: 12: REST API is deprecated for versions v2.1 and higher (12) thrown in /home/urbanfloor/public_html/blog/wp-content/plugins/seo-facebook-comments/facebook/base_facebook.php on line 1273