Color Corner: European Oak Lambrusco
Welcome to the blog! To continue our spotlight series, we are going to talk about the striking European oak Lambrusco from our Chene collection. Embodying the rich, exotic essence of the French wine, the Lambrusco offers light, creamy hues and a chic and distinguished sense of style. With its matte finish and extra-long planks, the Lambrusco certainly makes a statement wherever it is installed.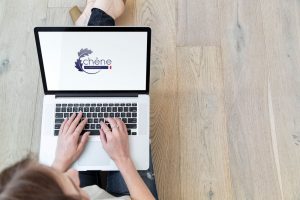 Strength & Durability
The Lambrusco's strong 7.5" wide planks are able to withstand heavy foot traffic and its wire brushed texture make this floor a good choice for families with kids and pets. Pair this durability with Urbanfloor's lifetime structural and 35-year finish warranty (see warranty information HERE for more details), it is easy to see why the Lambrusco is one of our most popular color choices.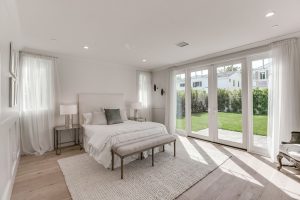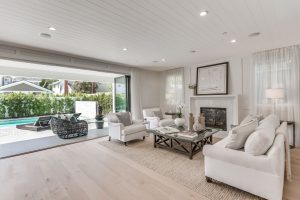 Aesthetic & Style
The Lambrusco's unique wire brushed aesthetic provides the perfect canvas for your design plan. Like the photo featured above, the Lambrusco is paired with an elegant and creamy-white tones which give the overall space an airy feel.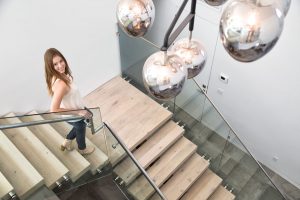 With its versatility, the Lambrusco is not limited to this sort of design, it also pairs well with a modern, cooler design featuring contemporary metallic accents and clean, bold angles. For fans of contrast in their designs, you will find that the Lambrusco pairs well with dark accents as illustrated in the bedroom below. The mix of textures and angles in this room make for a bold but understated design.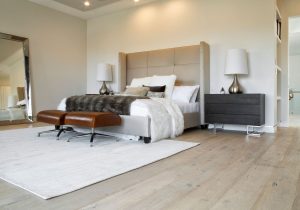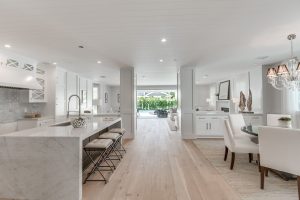 So, what do you think? Is the Lambrusco right for your home? If you have it installed in your house, we would love to see photos! Leave us a comment on our Facebook post and join the conversation!
View the Lambrusco on our website HERE.
---