We have another special treat for you today! Multi-talented Minnesota based designer and real estate extraordinaire, Katie Kurtz, thinks outside the (flooring) box when it comes to design. Read below to see what she did with some creative thinking and a few extra boxes of our European Oak Grigio!
---
Creative Application: Wood Floors Don't Have To Go On Floors!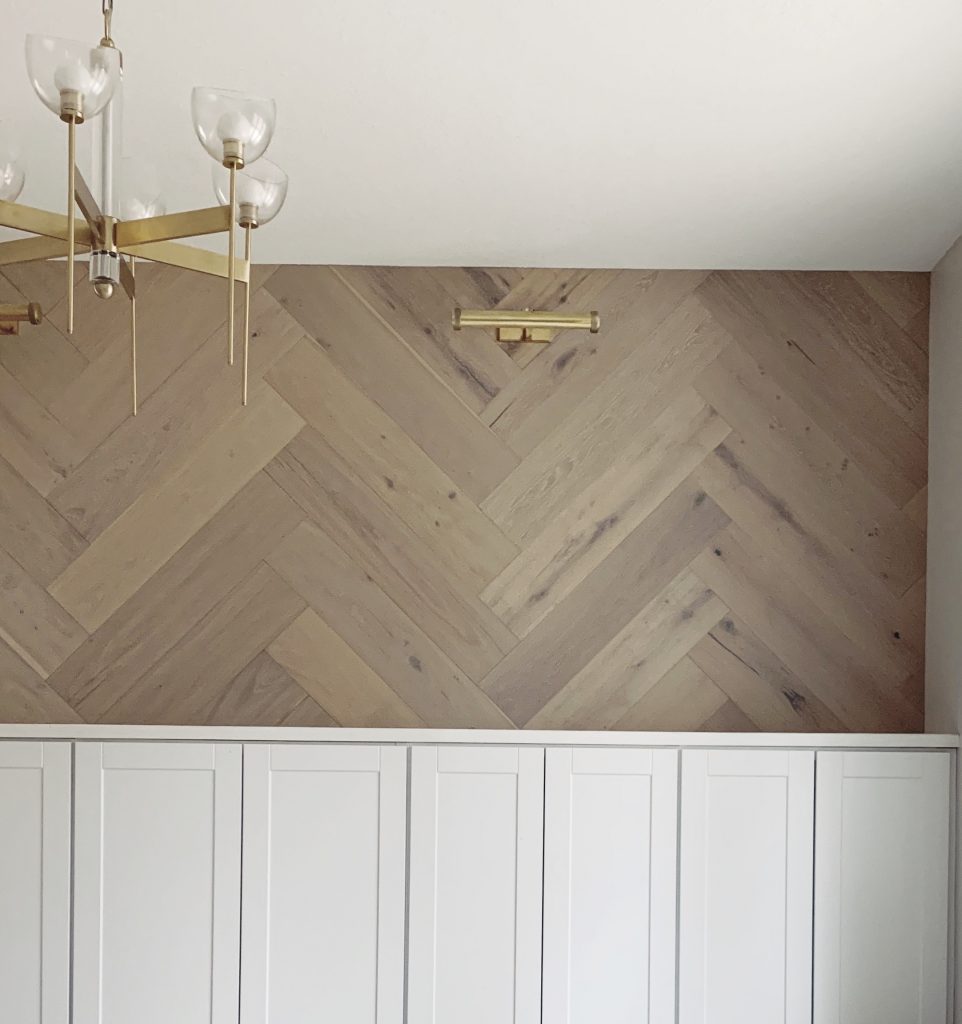 In our most recent project, we added a statement wall in the home office and then re-imagined the typical use of wood floors. The home has 3 wood tones already; light wood floors (Urbanfloor Chêne "Grigio"), grey oak cabinets, beams and fireplace mantel plus the white enameled trim. As a rule of thumb I don't suggest doing more than 3 wood tones in a home so I didn't want to introduce another wood color and came to the conclusion that matching the floor would look amazing! The Chêne collection is made to be used as a traditional floor application but having a handy husband who can make anything we were able to create a herringbone pattern and apply it to the wall in the office!
You will always, always find me recommending wood flooring to my clients! In the past years LVP has become very popular but I'm still a wood girl through and through. I might budge for a laundry room or bathroom:)!
Even though we created our own pattern, Urbanfloor DOES have a chevron pattern that makes install much easier! Timbertop, which is their chevron (very similar to herringbone), is a pre-done patterned floor that comes in 4 colors and is amazing! Being the matchy designer that I am we decided to tackle the pattern using the Chêne flooring product that we used on our floors so it matched perfectly!
We prepped the wall with 1×1 strips which creates a strong base to attach the wood planks to. Each box comes with multiple lengths to create interest and variation in the floor but for a herringbone pattern each plank has to e the same length. We decided on a size for each plank, we went mid size of the standards in the box to eliminate the most waste, and then went to town!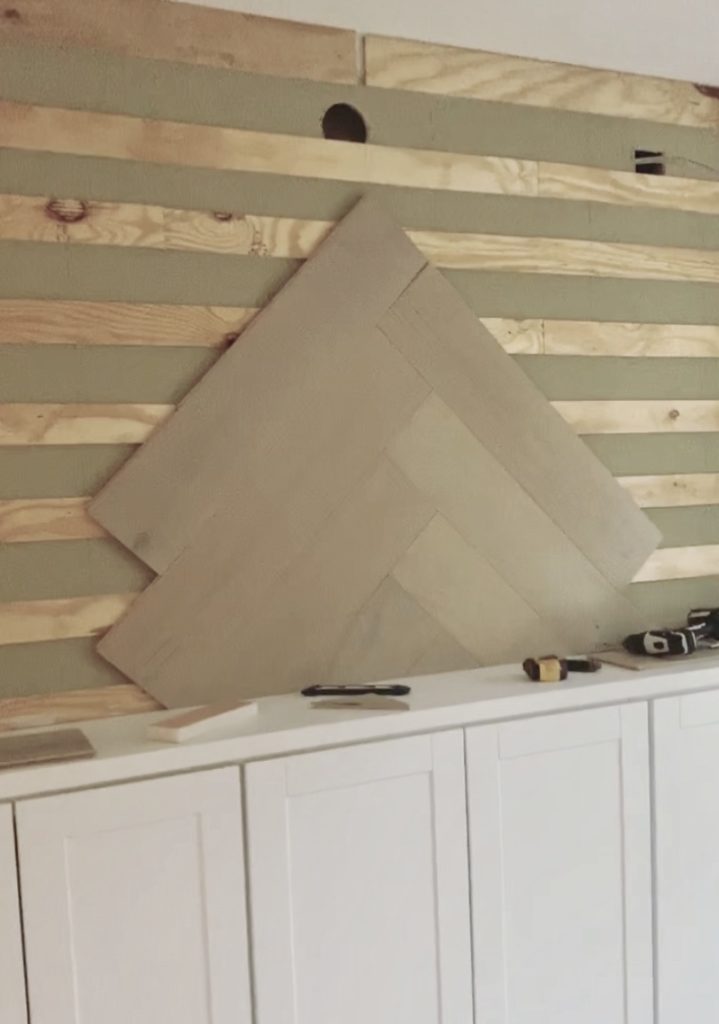 Two aged brass Hudson Valley picture lights were installed to finish off the look and I have a whole plan in place for the styling of this wall. Final styling and photos still to come so stay tuned but what do you think? We think it's pretty awesome!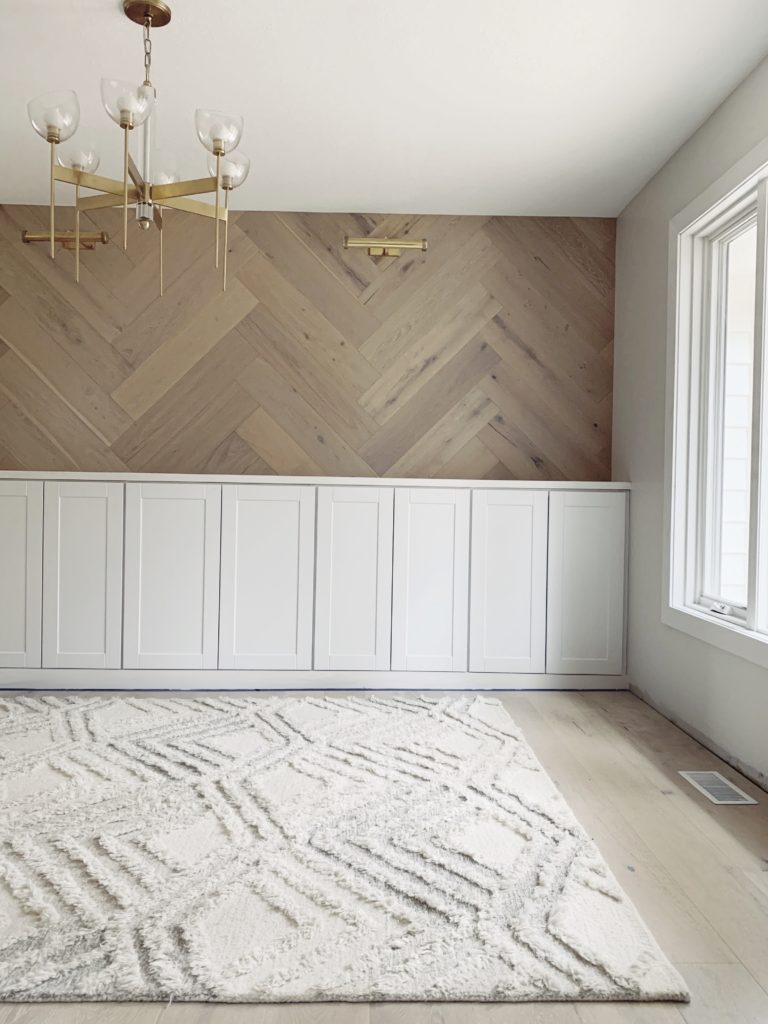 For your home projects, think outside the box. A cove ceiling with a wood plank floor would be amazing, or a backsplash behind a coffee bar! Options are endless, go on with your creative selves and have fun!
---
Want to see more of what Katie is up to? Click here!
---
---
You might also like
---