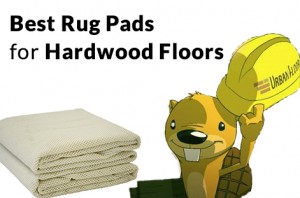 We emphasize area rugs quite often here at Urban Floor. The reason why is because area rugs truly are a hardwood floor's best friend. The combination of the two makes for a unique personalized balance. If you're interested in area rugs, then you're going to want an appropriate rug pad to accompany it. Here's the tricky part: it can often be difficult to choose the best, safe rug pad for hardwood floors.
Do I Even Need a Rug Pad?
Yes, you do need a rug pad and we'll list the top reasons why:
• Safety – this is the main reason why a rug pad should be a no brainer when purchasing an area rug. Picture a slip n' slide. That's what happens when you have an area rug without a rug pad underneath.
• Floor Protection – simply put, rug pads offer protection from damage that may occur to your floors from the harsh abrasive backside of your area rug. It also helps protect against dents, color transfer and staining.

Expert Advice on Selecting the Right Rug Pad for Hardwood Floors
A rug pad's job is basic: hold the area rug firmly in place, which will inevitably lead to prolonging its life and beauty.
Things to Keep in Mind:
• A rug pad for hardwood floors should not contain any glues, adhesives, chemicals, plastics, or PVC. These can stain or stick the surface – ruining your floors.
• The more dense and heavier your rug pad, the more protection you will receive from dents, etc.
Urban Floor's Professional Recommendations
Natural Felt – A great choice for larger rugs. We recommend a 30oz to 40oz weighted rug pad if you go with the natural felt route. Make sure 100% natural felt is used.

Natural Rubber – Perfect for smaller rugs and offer durability, stability, and grip. If thickness is an issue, then rubber pads work the best.
Combination of Rubber and Felt – An excellent choice for both durability and stability. Provides a non-slip grip, while adding cushioning for both large and small rugs.